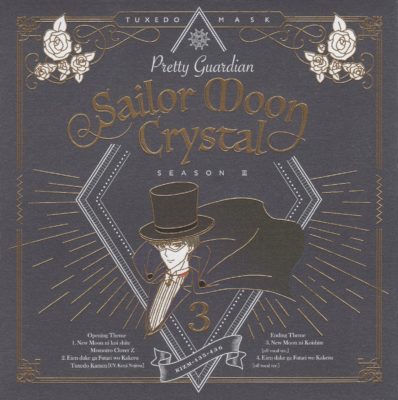 Available for purchase at CD Japan and YesAsia
Released June 22, 2016
Full album info at VGMdb
CD+DVD single for the third opening theme of Sailor Moon Crystal Season 3 as performed by Momoiro Clover Z and the third ending theme performed by Tuxedo Mask's voice actor. Bonus DVD features textless TV-size and full-size videos of the opening and ending credit sequences. The TV-size videos are also on the official Sailor Moon YouTube channel (below).
DISC 1 (CD) Track List
1

NEW MOON NI KOISHITE ("In Love with the New Moon") / Momoiro Clover Z

ニュームーンに恋して / ももいろクローバーZ

2

EIEN DAKE GA FUTARI WO KAKERU ("Only Eternity Brings the Two Together") / TUXEDO KAMEN [CV. NOJIMA KENJI]

永遠だけが二人を架ける / タキシード仮面[CV.野島健児]

3

NEW MOON NI KOISHITE [off vocal version]

ニュームーンに恋して [off vocal ver.]

4

EIEN DAKE GA FUTARI WO KAKERU [off vocal version]

永遠だけが二人を架ける [off vocal ver.]
DISC 2 (DVD) – Music Videos Track List
1

NEW MOON NI KOISHITE (Textless TV Size) / Momoiro Clover Z

ニュームーンに恋して (ノンテロップTVサイズ) / ももいろクローバーZ

2

EIEN DAKE GA FUTARI WO KAKERU (Textless TV Size) / TUXEDO KAMEN [CV. NOJIMA KENJI]

永遠だけが二人を架ける (ノンテロップTVサイズ) / タキシード仮面[CV.野島健児]

3

NEW MOON NI KOISHITE (Full Size Digest) / Momoiro Clover Z

ニュームーンに恋して (フルサイズダイジェスト) / ももいろクローバーZ

4

EIEN DAKE GA FUTARI WO KAKERU (Full Size Digest) / TUXEDO KAMEN [CV.N OJIMA KENJI]

永遠だけが二人を架ける (フルサイズダイジェスト) / タキシード仮面[CV.野島健児]
Season 3 Opening 3 (TV Version)
Season 3 Ending 3 (TV Version)